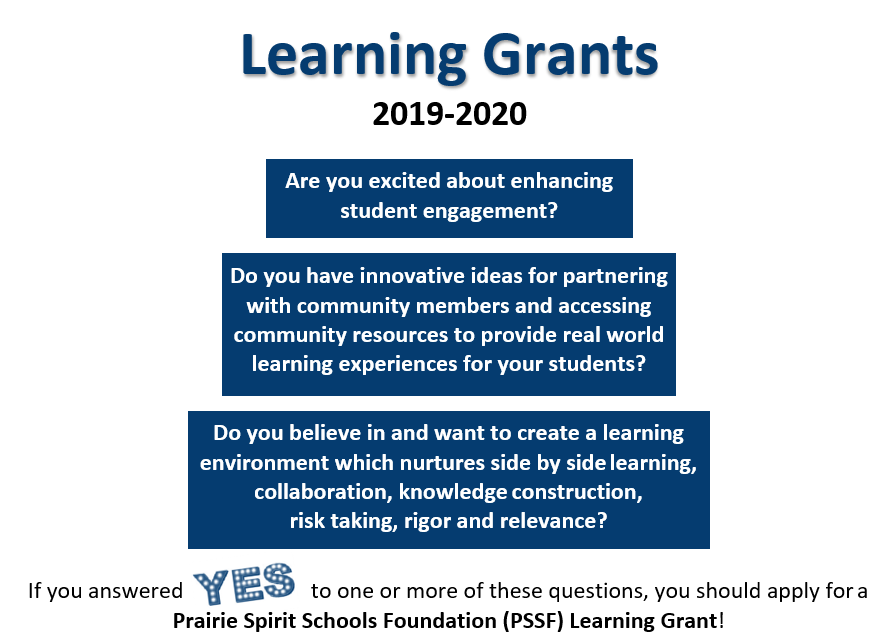 ---
Overview
We are looking to support learning innovations which have the potential to expand to other students, classrooms and schools in the school division and which focus on enhanced student engagement by empowering young people to explore their passions and create change in their classrooms, their schools and their community.  Learning Grant requests will be accepted to a maximum of $5,000.
Eligibility
PSSF Learning Grant requests are open for all students registered at a school in the Prairie Spirit School Division. This includes individual students, student groups, classrooms and entire school communities. All requests are to be made through the school on the Prairie Spirit Schools Foundation 2019-2020 Learning Grant Request Form and must include at least one Teacher Leader and be supported by the In-School Administrator.
Submission Deadline
Completed Prairie Spirit Schools Foundation 2019-20 Learning Innovation Request Forms are to be submitted to psfoundation@spiritsd.ca by September 16, 2019.
Note: Late submissions will not be accepted.
Desired Request Details
We value Learning Grant requests where:
Students are supported to seek new perspectives, create new knowledge and are actively engaged in their own learning.
Learning is relevant, rigorous and involves risk taking. This includes a connection to their lives now and in the future and involves critical thinking, inquiry and real world problem
Learning environments support students to collaborate within and outside the classroom: learning side by side, strengthening community partnerships and leveraging community
Selection Process
Grant recipients and amounts will be determined by the Prairie Spirit Schools Foundation Learning Grants Selection Committee by October 8, 2019. All applicants will be notified of the status of their request after that date. Applicants may be contacted prior to a decision being made to seek clarity regarding their request.
Accountability
All groups awarded a Learning Grant are required to provide evidence of the learning to the Prairie Spirit Schools Foundation by June 1, 2020.
Questions?
For further information or clarification, contact the Foundation office at psfoundation@spiritsd.ca
Forms
Prairie Spirit Schools Foundation 2019-2020 Learning Grant Request Form
2016-17 Learning Grant Recipient Stories